RMTA CELEBRATES 95 YEARS OF TEACHING!
by Millie Eben
"On Friday evening, September 13, 1926, twenty-five music teachers of Reading met at the home of George D. Haage for the purpose of forming an organization to be known as the Music Teachers Association of Reading.
The purpose of such an organization would be to raise the position of the music teaching profession to a higher degree of public recognition and to afford protection of the proper rights and interests of those engaged in the music teaching profession."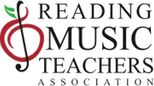 This is the first entry in the official minutes of the Reading Music Teachers Association.  The founders stressed that the purpose of the organization was not to dictate the methods and practices of teachers, but to support and promote their professional development and to provide educational and performance opportunities for members and their students, while cultivating music education in the community.
It should be noted that Mr. Haage served as President from 1926 through 1964! Early meetings, events, and workshops were held at Hangen's Music House, Eckert Brothers, Alexander's, Zeswitz, Young's Music Store as well as many churches around the area. As RMTA has never had a physical home base, the organization was – and still is – dependent upon the generosity of community organizations which continues to be vital for performance events wherein quality pianos are as important as the venue.
95 years later, RMTA continues to cultivate the mission established by our founders with workshops, forums, masterclasses given by renowned artists and teachers. Also performance opportunities, contests and competitions, and bus trips to the Academy of Music in Philadelphia, New York's Steinway Hall, and The Smithsonian and the National Cathedral in Washington DC.
It is interesting to note how RMTA and Reading Musical Foundation grew up side-by-side over these 95 years, having a shared ancestry, always with a focus on the advancement of music education and performance in our community.
Some notable achievements of RMTA include:
1935: Established a music section in the Reading Public Library. A committee catalogued over 500 items including biographies, histories, vocal music, operatic scores, and organ and piano literature.
1957 and 1961: Sponsored state conferences for Pennsylvania Music Teachers Association with local board members serving as state officers.
1964: Held its first piano ensemble concert featuring an orchestra of 16 pianos in the Albright College field house.
1968: Awarded its first music scholarship to a student accepted as a music major in an accredited college.
1983: RMTA first logo was adopted via a community competition.
1989: Held the first Student Original Music Composition Contest with 67 entries.
1990: Held the first music essay contest with the theme "Music Makes the Difference."
1997: Affiliated with Pennsylvania Music Teachers Association and Music Teachers National Association.
1999: Became incorporated.
2000: Became a 501c3 non-profit educational corporation.
Some of the more memorable events during my own time as a member include (since 1985):
1991: The first pops recital which was the first-time that jazz repertoire took center stage at a student recital.
1994: Scenic River Days exhibit with student performances and interactive music activities for kids.
1997: Piano Fest with close to 600 students participating on piano, voice, strings, and woodwinds. The event raised $7,000 for the scholarship funds.
1995/1997: Student masterclasses and workshops on composing with pianist/composers Robert Bruce and Martha Mier.
1996: Fundraiser to benefit Make-A-Wish Foundation which garnered $14,600. This was a cooperative effort with local school and community music organizations with over 400 Berks County young musicians participating. Senator Mike O'Pake attended and interacted with the Make-A-Wish children.
1999: Pipes & Pizza, a cooperative workshop with Reading's AGO chapter where students got to see the inside of a pipe organ.
1999: Workshop and concert by blind pianist/vocalist Judyth Cave Whitman.
2005: Concert and discussion on diversity with members of Intercultural Journeys, a Philadelphia based organization. The title of the event was "Middle Eastern Cultures in Harmony."
2006: Workshop with pianist Lee Evans on "Teaching Jazz in the Traditional Studio."
As with any small non-profit with a dues-based budget, RMTA struggles with the roller coaster of membership numbers and participation, as well as managing students who are juggling complicated and demanding schedules. But we strive to adapt as the desires and needs of the membership and our community evolve. There are, unfortunately, activities that we cannot hold any more – primarily our Piano Fests – due to the costs related to venue rental and having no local piano dealers to provide the piano orchestra.
One thing that has not wavered through the years is the talent, insight, adaptability, and strength of RMTA members. They are a dedicated bunch who continue to collaborate for the betterment of the individual teacher, the organization, and their community. It has been and always will be an honor and a privilege to be able to work, teach, and play with them all. Here's to another 95! 